As a leader in the industry, we have helped train others on safe and effective bee removal methods.
Bees are an integral part of our ecosystem. They have a significant impact on much of the food we eat as they pollinate our plants. However, this does not mean that we need to allow them to have free reign over our homes and gardens. If you are dealing with a significant bee infestation, if the bees you have are often near frequently used parts of your home and property, or if you have concerns such as allergies to bees, then we want to help with bee removal.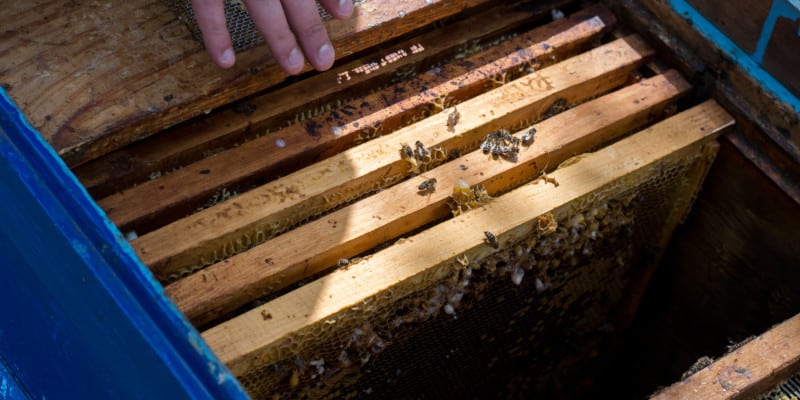 At Florida Bee Removal, we have years of experience and expertise that enable us to safely and effectively remove bees from your Pinellas County, Florida home or property. As a leader in the industry, we have helped train others on safe and effective bee removal methods. We work with both residential and commercial clients to make sure that your property is safe and free of hazards from bees or other stinging insects such as wasps and hornets. Because we understand the important role bees play, we also do our best to protect the species and can offer bee relocation when possible.
Not only can bees harm or frighten people who visit or live on your property, but some species of bees can cause damage to the structure of your property. Depending on the species, you may be dealing with nests inside the structure of your home or holes bored in the wood of your home by carpenter bees. At Florida Bee Removal, we can thoroughly inspect your property and ensure that bees are no longer posing a threat to your home.
We strongly recommend you do not try to perform bee removal yourself. Because of our extensive experience and training, as well as the support of proper insurance, calling us at Florida Bee Removal is the safest and most certain way to effectively remove bees from your business or residence. Give us a call today for a free estimate.
---
At Florida Bee Removal, we offer bee removal services in Lakeland, Clearwater, Miami, Sarasota, St. Petersburg, Tampa, Orlando, Palm Beach, West Palm Beach, Palm Harbor, Dunedin, Largo, Winter Haven, Lake Wales, Wesley Chapel, Fort Myers, Cape Coral, Charlotte County, Polk County, Pinellas County, Hillsborough County, Marion County, Lake County, Lee County, Seminole County, Osceola County, Manatee County, Pasco County, and Orange County, Florida.
Similar Services We Offer: