If you see bee swarms near your home or business, don't panic; just call us at Florida Bee Removal.
Have you ever seen a bee swarm? Bees, like many animals travel in groups at times when they are out looking for a location to make their home. When a hive gets over-crowded, about half of the group will leave the hive along with their queen. While most of that group will stay by the queen, some scouting bees will go in search of the best spot to build their new hive. This process usually happens in the spring but can happen in summer or early fall and typically takes anywhere from a few hours to a few days for the bees to find and begin building their new hive.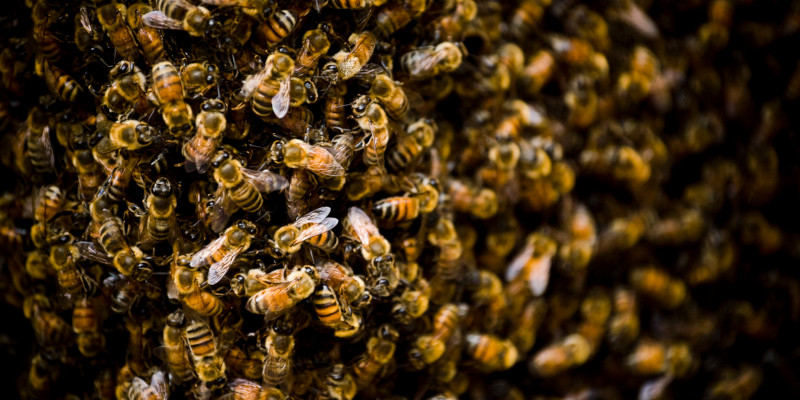 Contrary to what you may think, bees are less dangerous at this time because they do not have a home or storage of honey to protect. However, they can be scary if you have allergies or intimidating to people coming to your Pinellas County, Florida home or business. If you are dealing with bee swarms or have found that a group of bees has chosen your property as the best place to build their new hive, our team at Florida Bee Removal can help. We have over fifty years of experience working with bees. We know their habits, and we know how to safely and effectively remove bee swarms before they become a problem.
We understand the stress you may feel when you see bee swarms on or near your property, but we want you to rest assured that we can handle the matter quickly and to your complete satisfaction. We also have emergency service if you are in need of our services outside of our normal business hours. When you find bee swarms at your home or business, don't panic. Just contact us at Florida Bee Removal.
---
Bee Swarms in Lakeland, FL
Bee Swarms in Miami, FL
Bee Swarms in Sarasota, FL
Bee Swarms in St. Petersburg, FL
Bee Swarms in Tampa, FL
Bee Swarms in Clearwater, FL
Bee Swarms in Orlando, FL
Bee Swarms in Palm Beach, FL
Bee Swarms in Hillsborough County, FL
Bee Swarms, Dunedin, FL
Bee Swarms in Lee County, FL
Bee Swarms in Cape Coral, FL
Bee Swarms in Manatee County, FL
Bee Swarms in Seminole County, FL
Similar Services We Offer: