Call on us for prompt bee removal services.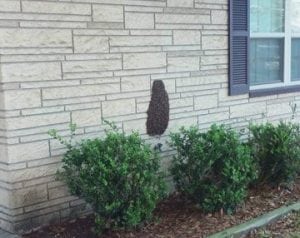 It used to be that it was relatively easy to locate someone to help you if you needed be removal at your Tampa, Florida home or business. You simply found one of the local beekeepers, gave them a call, and they were more than happy to come and collect the bees and add them to their endeavors. However, you may have noticed that the majority of beekeepers out there are more interested in pollination and honey production either as a hobby or to support agriculture in the area. That doesn't mean you are without options if you are having a bee problem.
With our 50+ years of industry experience, you and the bees on your property are in capable hands.
Here at Florida Bee Removal we have the same passion for bees in our family business that began with our grandfather a very long time ago. Recognizing that the options for bee removal were diminishing even back a few decades ago, we decided to fill that vacancy. Today, 55+ years later, we deal with 300 to 400 bee removal situations every month. We perform our services keeping safety in mind for those in the area and also to protect your property. We have the experience to deal with swarms of any size and can remove honeycombs from structures even in hard-to-reach places. As licensed and insured bee control professionals, you can count on us for proper bee management services, including complementary bee control assessments, emergency bee management, and onsite inspections that will give you peace of mind that your property isn't harboring a problem with any type of stinging insect. If you have any questions about bee removal services for your home or business, don't hesitate to give us a call. Don't let bees, wasps, hornets, yellowjackets, and other stinging insects pose a risk to you, your family, and other guests to your property. Call us today for prompt solutions to your problem.

FAQs About Bee Removal
At Florida Bee Removal, we believe an informed client is our best client, so when it comes to providing you with bee removal services, we want you to be fully apprised of the process so you know what to expect. While we are always happy to answer any of your questions, we thought we would share a few of the most common questions that we get asked about bee removal.
How long does bee removal take?
There are several factors involved that can affect how long it will take for us to safely remove bees from your Tampa, Florida property. The size of the hive, the type of bee, and the location of the hive all affect the method we need to use to keep everyone safe, including the bees. When we assess the situation, we can give you a more precise idea, but it could be anywhere from a few minutes to more than an hour.
Will the bees return to my home?
When we do bee removal, we take the bees far away from your home so it is quite unlikely for them to return. While a new colony of bees could find your home as inviting as the last ones, we do our part to discourage that by cleaning the area of residuals and letting you know about access points that should be sealed to avoid a reoccurrence.
What if you find that they aren't bees?
While we have a different process for other types of stinging insects, such as yellowjackets or hornets, the end result is the same in that they are removed from your property and the residue removed to discourage repeat infestations.
---
Bee Removal in Lakeland, FL
Bee Removal in Miami, FL
Bee Removal in St. Petersburg, FL
Bee Removal in Sarasota, FL
Bee Removal in Orlando, FL
Bee Removal in Palm Beach, FL
Bee Removal in Hillsborough County, FL
Bee Removal in Dunedin, FL
Bee Removal in Palm Harbor, FL
Bee Removal in Pinellas County, FL
Bee Removal in Clearwater, FL
Bee Removal in Lake Wales, FL
Bee Removal in Lee County, FL
Bee Removal in Cape Coral, FL
Bee Removal in Manatee County, FL
Bee Removal in Seminole County, FL

Similar Services We Offer: