Let us know if you have questions about the cost of bee removal.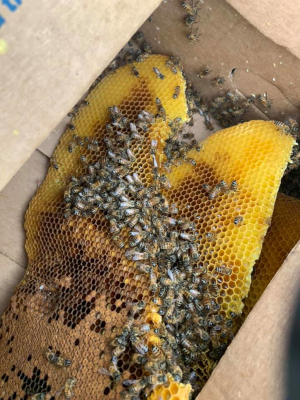 Whether you have a mild bee problem at your property or a major infestation, you're going to need to hire trained professionals to deal with them. Getting too close to the bees, especially around their nest, can be dangerous, but our team has all the right protective gear, knowledge, and equipment to address your bee problem safely and effectively. Just give us a call to get our team on the job. We'll arrive at your Lakeland, Florida property promptly, so you can return to other tasks instead of worrying about the bees.
You may be wondering what to expect in terms of your bee removal cost. As you probably expect, bee removal costs vary depending on the circumstances of each individual job. Several factors may play a role in what it costs to remove them, including things like the size of the colony, the location of the nest (it's more difficult to remove bees from interior walls than a tree, for instance), or even the type of bees. However, we'll let you know what you can expect to pay before we get started. We will start with a free consultation so that we can assess the unique requirements of the job and give you an idea of the bee removal cost.
If you need bee removal, there's no better team for the job than us at Florida Bee Removal. We have five decades of experience in bee removal, and we carry all the proper credentials and insurance to provide this service. Contact us today if you have questions about our services or your estimated bee removal cost.
---