Don't wait to call for carpenter bee removal.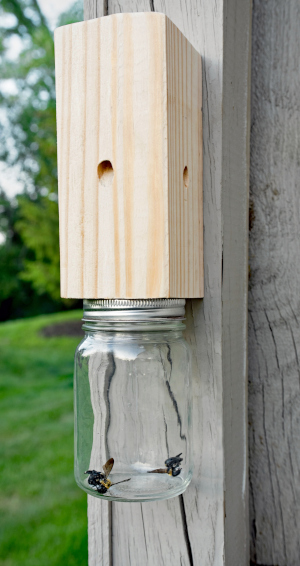 Having a large group of bees on your property is generally something you want to avoid. Even if you don't have allergies, their presence may make you feel anxious or put you at risk if you get too close and the bees feel as if you're provoking them. These things are true for all types of bees, including carpenter bees.
Carpenter bees aren't aggressive either, but they can be very destructive if you leave them to their business long enough. Carpenter bees are known for drilling holes in wood and nesting inside of it, whether it's the trunk of a tree or the wooden structural elements that keep your home standing. To avoid extensive property damage, it's best not to wait for carpenter bee control services. Fortunately, you can contact our professionals at Florida Bee Removal right away for effective carpenter bee control methods.
We have over 50 years of experience in the bee removal and relocation industry, so we know all the proper techniques for removing bees safely and quickly. We can come out to your Lakeland, Florida property, inspect the area to gain an understanding of the scope of the problem, and then implement a safe and effective solution to remove the carpenter bees. When we're finished with the job, we recommend that you treat the wood to prevent future infestations. Some examples of measures you might take include painting or staining the wood, filling existing holes, applying wood preservatives, or using special insecticides.
If you need qualified professionals to provide carpenter bee control, contact our team today to schedule a free consultation.