Florida is home to many species of wasps, and our wasp control services resolve them all!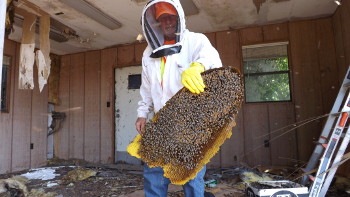 There are several species of wasps to be found in the Manatee County, Florida area, and none of them are desirable if they have an established nest and colony on your residential or commercial property. Here at Florida Bee Removal, our pest control services focus only on stinging insects. We offer effective and safe wasp control and other removal services, so you can have peace of mind your property is cleared of these potentially damaging insects that can pose a health hazard. Here are two of the wasp species you can call us for wasp control services to resolve:
Cicada Killer – This wasp species is primarily interested in stinging and paralyzing cicadas so it can be placed in their nest with an egg. In fact, they are one of the least aggressive species of wasp and their sting is relatively mild. It is an intimidating-looking wasp, however, as it can be quite large. The problem with this wasp is that colonies tend to nest in the same area, leading to damage to your lawn from the burrowing they do to set up nests.
Yellowjacket – This is not a species you want to fool around with on your own as they are very aggressive both at defending themselves and their nest. Because the stinger isn't barbed, they can sting their victims repeatedly, injecting a nerve poison venom that is painful and can cause an allergic reaction. The nests can be found both in aerial and subterranean locations, and larger nests can be a combination of both below and above ground.
There are several other species that can also be found in Florida, including hornets and paper wasps. Some species are not only a problem for people, but can also cause damage to your property. Our recommendation is to call us for wasp control regardless of the type of wasp you have, as most store-bought products aren't as safe or as effective as the products we use. Call today if you have any questions about wasp control or the other stinging insects we remove or relocate.
---
At Florida Bee Removal, we offer wasp control services in Lakeland, Clearwater, Miami, Sarasota, St. Petersburg, Tampa, Orlando, Palm Beach, West Palm Beach, Palm Harbor, Dunedin, Largo, Winter Haven, Lake Wales, Wesley Chapel, Fort Myers, Cape Coral, Charlotte County, Polk County, Pinellas County, Hillsborough County, Marion County, Lake County, Lee County, Seminole County, Osceola County, Manatee County, Pasco County, and Orange County, Florida.