Have bees invaded your backyard or home? Call us for professional bee removal!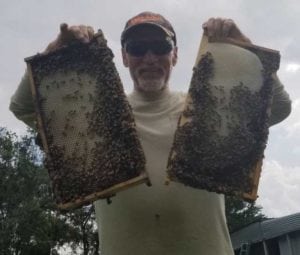 The buzzing of the bees is usually a pleasant sound that is indicative of warmer weather or a nice spring day. However, when it's a loud buzzing indicative of a swarm of unwelcome bees, that sound is less pleasant and more of a panic-inducing dread! Bee removal can be dangerous, especially when the hive has grown to substantial size. If you are concerned either for your safety or have worried about the hive spreading, it might be time to call Florida Bee Removal for professional bee removal services.
After you call Florida Bee Removal, you'll be impressed by our ability to respond quickly. We understand that a swarm or hive of bees isn't just unnerving, but can be dangerous to pets and family members, especially those who are allergic. That is why we don't just respond quickly during our regular hours, but have set up emergency hours as well for those weekends when you finally make it outside only to discover the bees made it there first!
How Important are Bees in the Sarasota Area?
If you live in the Sarasota, Florida area, you probably know about the many things that make this area special and popular. What you may not know is that we are more than the place where the Ringling Brothers and Barnum & Bailey circuses started out. We also have a thriving art and culture scene, as well as fantastic beaches. Here at Florida Bee Removal, we have one more thing to add to the list that you should know about – an amazing agricultural community that is an important part of the state's economy.
Not only are bees vital for pollinating the many crops produced in the state of Florida, but they also provide several million pounds of honey each year, setting our state in the top 5 in the country for honey yield with several million dollars in sales. (See page 96 of this report for details.) This poses a valid argument for relocating bees that have set up in the wrong place and why our professional bee removal services are so important.
In Sarasota County, the top crops produced include cabbage, celery, cucumbers, radishes, escarole, sweet corn, and lettuce – many of which rely upon bees for pollination for optimal food production and success. Our professional bee removal services move bee colonies from residential properties to agricultural areas, and we are proud to be serving this vital role in our area's economy.
If you notice a bee colony on your property and would like to protect it but avoid the potential hazard for your family, pets, and home, call us for professional bee removal. We will keep you safe and place the bees where they can thrive.
Our professional bee removal includes not only the removal of the bees that are squatting on your property, but also the removal of their hives and anything left behind, so that the bees won't come searching and try to re-build. If you are having a problem with bees or other stinging pests here in Sarasota, Florida, don't try and get rid of them yourself! Instead, call our experienced team here at Florida Bee Removal for professional bee removal services today.
---
At Florida Bee Removal, we offer professional bee removal services in Lakeland, Clearwater, Miami, Sarasota, St. Petersburg, Tampa, Orlando, Palm Beach, West Palm Beach, Palm Harbor, Dunedin, Largo, Winter Haven, Lake Wales, Wesley Chapel, Fort Myers, Cape Coral, Charlotte County, Polk County, Pinellas County, Hillsborough County, Marion County, Lake County, Lee County, Seminole County, Osceola County, Manatee County, Pasco County, and Orange County, Florida.