With our effective cicada control services, you won't have to deal with burrowing cicada-killer wasps at your home or business.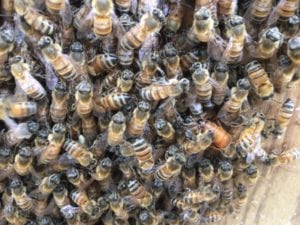 The cicada wasp is both impressive and intimidating because of its coloring and its large size. While the cicada-killer wasp is not particularly aggressive and its sting is mild, the burrowing nature of this wasp makes it something you don't want around your Lakeland, Florida home. It doesn't take much to end up with a problem, as all they need is soil to burrow in that has good drainage and a nice supply of cicadas to eat. Thus, prevention involves keeping cicadas to a minimum, so you have less chance of cicada wasps taking up residence in your yard. Should that happen, however, you can turn to us at Florida Bee Removal for safe and effective cicada control to rid your yard of the cicadas and the cicada wasps.
It is important to seek the services of a trained professional rather than attempt cicada control on your own. The pesticides you'll find on the market can be very dangerous if not used properly, so you'd be trading one problem for another, coupled with the fact that most of them are ineffective. We utilize the most effective methods known in the industry that are safe for your family, including your children and pets.
In addition to having peace of mind that your cicada control will be done properly, you can count on our licensed and insured cicada control technicians to put our more than 55 years of experience to work for you to resolve any stinging insect issue you may have at your home or business. If you are experiencing a problem, don't hesitate to call us for cicada control or any of our other stinging insect removal and relocation services.
---
At Florida Bee Removal, we offer cicada control services in Lakeland, Clearwater, Miami, Sarasota, St. Petersburg, Tampa, Orlando, Palm Beach, West Palm Beach, Palm Harbor, Dunedin, Largo, Winter Haven, Lake Wales, Wesley Chapel, Fort Myers, Cape Coral, Charlotte County, Polk County, Pinellas County, Hillsborough County, Marion County, Lake County, Lee County, Seminole County, Osceola County, Manatee County, Pasco County, and Orange County, Florida.