Stinging insects can be painful and downright deadly! Contact our professionals for assistance.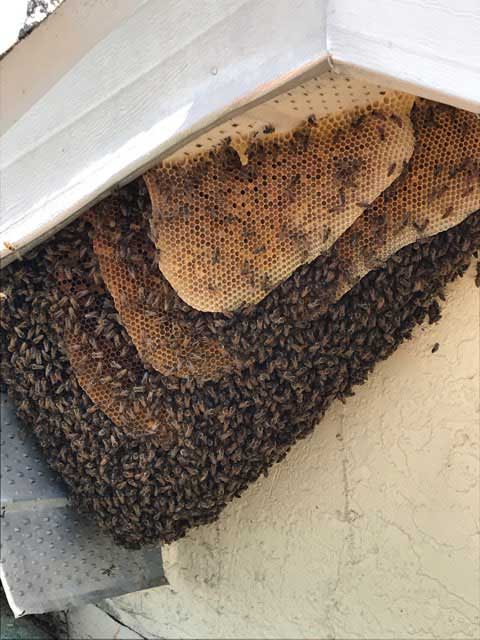 No one enjoys a sudden sting from a stinging insect. Whether you accidentally stepped on a bee, inadvertently disturbed a hornet's nest inside a berry bush, or happened to leave a soda can unattended that attracted some yellow jackets, stinging insects inhabit a good portion of our world. Here at Florida Bee Removal we are here to assist you with the identification, removal, and possible relocation of stinging insects in your St. Petersburg, Florida property. We are able to handle a variety of stinging insects, including:
Mining bees
Wasps
Hornets
Mud Daubers
Cicadas
And their nests
We have been in the apiary business for over 50 years, so we have all the experience and tools that we need to ensure that your stinging insects are removed completely and precautions are taken to ensure that more swarms don't move in. We know common hiding places and have several methods in our toolbelt to get your stinging insects out of your property with minimal disruption. Additionally, we use this experience to ensure that when we remove your stinging insects from wherever they are nesting on your property, we use the proper gear and will help you keep others around you safe during the process.
Here at Florida Bee Removal we want to help you with any stinging insect issue that you might encounter. In the walls or the trees, we are able to safely remove your stinging insect infestation. Please, don't try and take care of these issues yourself. Not only could you end up in a quite painful situation, but the situations can actually become life-threatening! Give our professionals a call instead for help with stinging insects in your St. Petersburg home or business.
---
Stinging Insects in Lakeland, FL
Stinging Insects in Miami, FL
Stinging Insects in Orlando, FL
Stinging Insects in Tampa, FL
Stinging Insects in Lee County, FL
Stinging Insects in Cape Coral, FL
Stinging Insects in Manatee County, FL
Stinging Insects in Seminole County, FL