Our honey bee removal experts will completely remove all traces of bees, the hive, and honey from your property.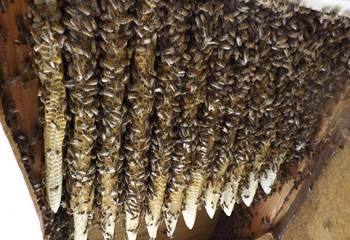 While beekeeping has become a trendy hobby among some groups of people, not everyone is interested, and just about everyone would agree that they don't want bees living in or near their home. If you discover that you have a bee colony squatting on your property, you can call our team at Florida Bee Removal for assistance. We have over 50 years of experience working with bees, so you can count on us to provide thorough, effective honey bee removal services. We'll smoke out the bees so that they can be relocated to a more suitable home and completely remove all traces of the hive to leave your home as good as new.
Left to their own devices, honey bees are liable to take up residence just about anywhere, which can be inconvenient for home or business owners. Having a honey bee infestation poses a number of problems, as honey bees sting just as painfully as other varieties, and the honey they produce can seep into walls or other structures and make a sticky mess that attracts even more insects. Our honey bee removal experts here at Florida Bee Removal will pinpoint the location of the hive and safely extract all the bees for relocation. Once the bees are contained, we'll completely remove the honey, comb, and eggs so that no further swarms are attracted to the scent. Lastly, our team will restore the area so that you can't even tell any damage occurred.
We at Florida Bee Removal are proud to serve the Hillsborough County, Florida community, and we want to help you keep your property free of bees. If you are in need of honey bee removal services, just give us a call.
---
Honey Bee Removal in Lakeland, FL
Honey Bee Removal in Clearwater, FL
Honey Bee Removal in Orlando, FL