Have bees invaded your backyard or home? Call us for professional bee removal!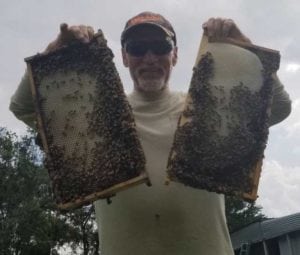 The buzzing of the bees is usually a pleasant sound that is indicative of warmer weather or a nice spring day. However, when it's a loud buzzing indicative of a swarm of unwelcome bees, that sound is less pleasant and more of a panic-inducing dread! Bee removal can be dangerous, especially when the hive has grown to substantial size. If you are concerned either for your safety or have worried about the hive spreading, it might be time to call Florida Bee Removal for professional bee removal services.
After you call Florida Bee Removal, you'll be impressed by our ability to respond quickly. We understand that a swarm or hive of bees isn't just unnerving, but can be dangerous to pets and family members, especially those who are allergic. That is why we don't just respond quickly during our regular hours, but have set up emergency hours as well for those weekends when you finally make it outside only to discover the bees made it there first!
Why Professional Bee Removal is Important for the Miami-Dade Area
Even though the crop production in the Miami, Florida area has shifted from vegetables, primarily tomatoes, more toward landscaping plants, such as ornamentals, there is still a huge dependence on bees for pollinizing. Although we aren't growing as many tomatoes these days, we do have a very diverse agricultural industry – one of the most diverse in the country actually. Here at Florida Bee Removal, we want to do our part to protect this vital part of our economy that produces nearly $3 billion and employs over 20,000 people.
Our professional bee removal service is important for relocating bees that are vital for food production rather than eradicating a colony when its location puts a family at risk. We understand not wanting to get stung or have a colony inhabit your home or an outdoor structure on your property. With our safe and effective professional bee removal techniques, we can keep you safe and protect the bees at the same time.
Bees are one of the most industrious insects on the planet. In any given day, they will have visited, and thus pollinated, as many as 5,000 flowers. That equates to one or two million flowers a day from one small hive. By calling us for professional bee removal, you'll be safeguarding food production, protecting our agricultural economic health, and contributing to honey production.
Call on us to relocate the bees that have had the misfortune of setting up their colony in the wrong place. You'll be happier, and so will the bees when our team removes them from your property and takes them to a location where they'll be safe and productive.
Our professional bee removal includes not only the removal of the bees that are squatting on your property, but also the removal of their hives and anything left behind, so that the bees won't come searching and try to re-build. If you are having a problem with bees or other stinging pests here in Miami, Florida, don't try and get rid of them yourself! Instead, call our experienced team here at Florida Bee Removal for professional bee removal services today.
---
Professional Bee Removal in Lakeland, FL
Professional Bee Removal in Clearwater, FL
Professional Bee Removal in Dunedin, FL
Professional Bee Removal in Hillsborough County, FL
Professional Bee Removal in Orlando, FL
Professional Bee Removal in Palm Beach, FL
Professional Bee Removal in Pinellas County, FL
Professional Bee Removal in Sarasota, FL
Professional Bee Removal in Lake Wales, FL
Professional Bee Removal in Lee County, FL
Professional Bee Removal, Cape Coral, FL
Professional Bee Removal in Manatee County, FL
Professional Bee Removal in Seminole County, FL
Similar Services We Offer: