Bee swarms are a clear warning sign that you may need bee removal service.
Bee swarming is a process that allows a new honeybee colony to be formed. When a queen bee leaves the colony with a group of worker bees, these bees will go through the process as a natural form of reproduction. The original colony could reproduce to two or more additional colonies, which means thousands of bees could be involved at any given moment. If you've never seen bee swarms, experiencing this behavior can be frightening and overwhelming. Many people worry when a single bee flies toward them, so imagine the fear that could come when a large swarm of bees is moving toward you.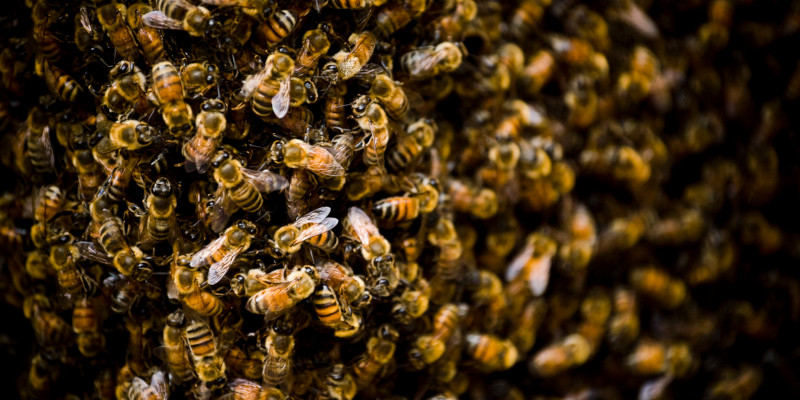 Bee swarms happen all over the nation, including in Lee County, Florida. They are more common during the spring months, although occasional swarms can happen during other seasons as well. After the swarm occurs, the scout bees in the colony will settle several hundred feet from the nest and look for a site to set up a new nest. If you spot bee swarms taking place on your property, you could end up with a serious bee infestation that could create a dangerous situation for you and your family members.
Although bees are beneficial to your flowers and plants, too many of them can be very unpleasant. It's hard to relax in your backyard if you're fighting off bees and worrying about being stung. When your pets like to play outdoors, they run the risk of stepping on a bee or being stung. Bee swarms are a clear warning sign that you may need bee removal service. If you've noticed this behavior at your property, contact us at Florida Bee Removal. We specialize in removing bees from properties throughout the area.
Our company has been providing bee removal and other insect removal services for more than 57 years. We have trained other extermination and bee removal companies throughout our years in business, and we're proud to be one of the best options for removing swarms of bees from your property. Our team members have the expertise to safely and efficiently remove all types of stinging insects from just about any structure or area of your property, including wasps, yellow jackets, hornets, and bees. When we perform these services, our goal is to protect your property and those who live on it, so we'll work carefully to remove all traces of the colonies, nests, and other housings for these pests.
You're probably aware of the efforts across the nation to save the bees, and these conservation efforts are for good reason. Nearly all the food we eat relies on the pollination process, so bees are vital to the natural order. When we remove bees from your property, we won't exterminate them. Instead, we relocate the bees to an area where they can live and thrive, while protecting your property from the dangers of too many bees. Contact us to find out how our safe and eco-friendly removal services can resolve the issue of bee swarms on your property.
---
At Florida Bee Removal, we remove bee swarms from properties in Lakeland, Clearwater, Miami, Sarasota, St. Petersburg, Tampa, Orlando, Palm Beach, West Palm Beach, Palm Harbor, Dunedin, Largo, Winter Haven, Lake Wales, Wesley Chapel, Fort Myers, Cape Coral, Charlotte County, Polk County, Pinellas County, Hillsborough County, Marion County, Lake County, Lee County, Seminole County, Osceola County, Manatee County, Pasco County, and Orange County, Florida.