Bee swarms are not something you should try to handle yourself.
When a colony of bees becomes too large, the queen makes the decision to leave the colony with a group of worker bees to form a new colony. Those left behind create a new queen for their colony. When this split occurs near your Dunedin, Florida home, the swarm can be intimidating and frightening. You don't have to deal with bee swarms on your own, as our professionals here at Florida Bee Removal can resolve the swarm and the current colony by relocating them elsewhere.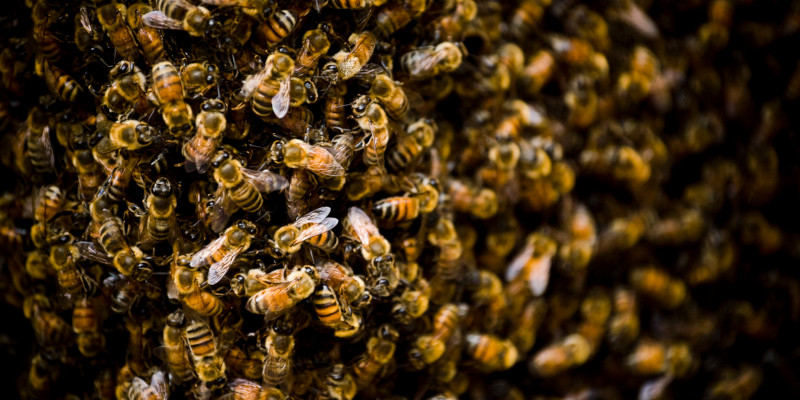 If you do not resolve the two colonies, it is likely you'll be dealing with more bee swarms in the future, and they could set up a new colony in a very unsatisfactory location, such as in your home's attic or elsewhere within the structure. You can avoid this situation and not be disheartened that you have reduced the honey bee population, which is so critical to our environment, by calling us for bee removal and relocation services.
We have been providing our services for nearly 60 years as the first in the state of Florida to offer statewide bee removal services. We also manage other stinging insects, so if you are not sure you have bee swarms or something else, rest assured that we'll accurately assess the situation and provide the correct solution for your needs.
Don't attempt to handle bee swarms on your own! We have the proper equipment to do the job safely, even if the bees have set up their colony in a challenging location. Keep you, your family, your neighbors, and the bees safe with our effective bee removal and relocation services. Call today to learn more.
---
At Florida Bee Removal, we remove bee swarms from properties in Lakeland, Clearwater, Miami, Sarasota, St. Petersburg, Tampa, Orlando, Palm Beach, West Palm Beach, Palm Harbor, Dunedin, Largo, Winter Haven, Lake Wales, Wesley Chapel, Fort Myers, Cape Coral, Charlotte County, Polk County, Pinellas County, Hillsborough County, Marion County, Lake County, Lee County, Seminole County, Osceola County, Manatee County, Pasco County, and Orange County, Florida.