At Florida Bee Removal, we can provide you with safe, effective, and timely bee swarm removal.
If you are seeing a bee swarm near your Pinellas County, Florida home or business, it is likely because there is a group of bees searching for a new home. Each year, many bees outgrow their hive and need to split up and find a new place to call home. If you have found that these bees are waiting out their time or are beginning to build a hive on your property, the best choice is to call experience professionals to provide you with safe and effective bee swarm removal services.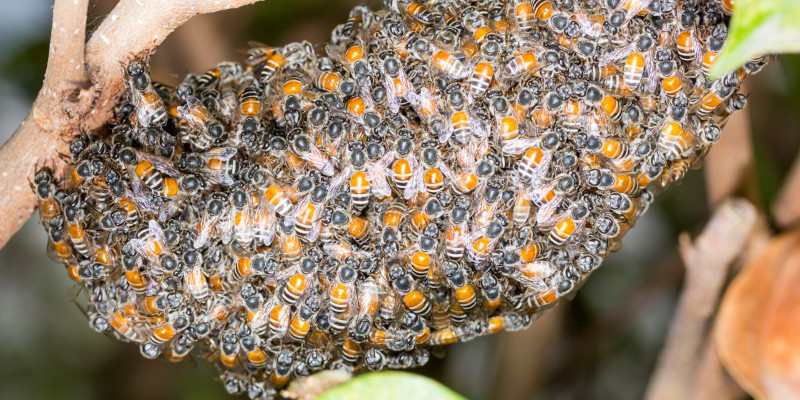 Here at Florida Bee Removal, we have over fifty years of experience in the bee removal industry. While most of Florida's beekeepers and experts spend the majority of their time gathering and harvesting honey, we have focused all of our efforts on learning the best methods and strategies for safely removing bee swarms and hives, as well as the removal of other stinging insects. Our hard work and research have made us an industry leader in our field, even providing training to other groups to learn our trade.
While there are products and ideas available to try bee swarm removal yourself, calling our highly trained technicians is sure to be the safest and most reliable choice for completely eradicating the problem. Not only do we have the necessary training, but we also have the insurance needed to protect us and you if any incident occurs. Don't let a swarm of bees threaten your guests or make you feel nervous and uncomfortable. Simply contact us at Florida Bee Removal and let us provide you with the safe and effective bee swarm removal that you need.
---
At Florida Bee Removal, we offer bee swarm removal services in Lakeland, Clearwater, Miami, Sarasota, St. Petersburg, Tampa, Orlando, Palm Beach, West Palm Beach, Palm Harbor, Dunedin, Largo, Winter Haven, Lake Wales, Wesley Chapel, Fort Myers, Cape Coral, Charlotte County, Polk County, Pinellas County, Hillsborough County, Marion County, Lake County, Lee County, Seminole County, Osceola County, Manatee County, Pasco County, and Orange County, Florida.