Have your bee removal done professionally, safely, and completely with our help!
Some things are easy to remove from your home. The garbage, outdated magazines, and used tissues definitely fall under this category. Other things, however, are not easy to remove from your home. These things can include your in-laws, dog hair, and bees! While we can't help you with your pooch or your nosy relatives, here at Florida Bee Removal we want to be your go-to bee removal specialists in Sarasota, Florida.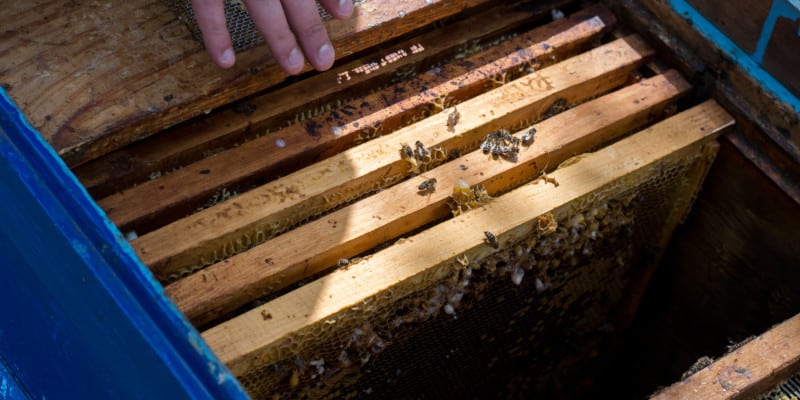 Bee removal is often a tricky, delicate, and intense process that is always best carried out by professionals. Because bees can pose a health hazard to people, protective gear is required. Even if you think you're not allergic to bees and therefore don't need protective gear, the truth is that the allergy to bees can develop into adulthood. This means that bee removal by amateurs without the knowledge or protective gear required can be literally life-threatening!
Florida Bee Removal: The OG of Bee Removal in Florida
Here at Florida Bee Removal we remove all kinds of bees, including bumblebees, carpenter bees, yellow jackets, wasps, hornets, and more. We can help you extricate these insects from the darkest recesses of your home (which is almost always where they like to make their hives!) and relocate them when possible. Once we have finished our bee removal process, we will ensure that no traces of the hive, swarm, or bees are left behind. This will help ensure that your home does not attract future swarms that can smell the slight chemical traces of the removed hive. If you have bees on your property, we want to help. Give us a call here at Florida Bee Removal for our professional bee removal service.

FAQs About Bee Removal
Bee removal isn't something that you need on a regular basis… or at least you hope you don't, and if it is done right, it shouldn't have to be a regular occurrence. At Florida Bee Removal, we have plenty of experience in the Sarasota, Florida area, so we are your best choice for safeguarding your family. We want you to fully understand the bee removal process, so we thought we would share a few commonly asked questions about our services.
What risks are there to just leaving a beehive alone?
It is a common misconception that the only problems related to having a beehive on your property involve getting stung and the potential for a severe allergic reaction. The reality is that a bee colony can continue to grow and then split into another colony, which might find a spot in the recesses of your home that would be far from acceptable. In addition, you might have a species that can pose more of a danger, such as carpenter bees that weaken wooden structures.
I see a swarm of bees on a tree branch. What should I do?
What you are probably seeing is a group of bees that has vacated one beehive and is looking for a new home. One of two things could happen. They could end up finding a good spot far from your property, in which case they would be someone else's concern. Or, they could find a spot inside your home or elsewhere on your property to build their new hive. In either case, it is fine to call us for bee removal so that we can get them to a place they won't be anyone's problem.
Is it possible that the bees that I see are "killer bees"?
Africanized honey bees, a.k.a. killer bees, came into the United States several decades ago, and although it was feared they would migrate quickly throughout the country, that rate hasn't been nearly as fast. With that said, Florida has experienced some of these bees, although it is suspected they came from cargo ships rather than migrating from Texas. So, in a word, while it's not likely, yes, it is possible, which is a good reason to call us if you see a hive rather than try to take care of it yourself.
---
Bee Removal in Lakeland, FL
Bee Removal in Miami, FL
Bee Removal in Tampa, FL
Bee Removal in St. Petersburg, FL
Bee Removal in Orlando, FL
Bee Removal in Palm Beach, FL
Bee Removal in Hillsborough County, FL
Bee Removal in Dunedin, FL
Bee Removal in Palm Harbor, FL
Bee Removal in Pinellas County, FL
Bee Removal in Clearwater, FL
Bee Removal in Lake Wales, FL
Bee Removal in Lee County, FL
Bee Removal in Cape Coral, FL
Bee Removal in Manatee County, FL
Bee Removal in Seminole County, FL

Similar Services We Offer: